Keywords: Witches, fairies, wizards, fantasy, stars... Halloween is welcome as well ;)
Stichworte: Hexen, Feen, Zauberer, Fantasy, Sterne... Auch Halloween ist willkommen ;)
Hallo Ihr lieben und herzlich willkommen zu einer neuen Herausforderung auf der Traumfabrik!
Hello everyone, and welcome to a new challenge at the Dream Factory!
Unser Film für diesen Monat ist
Our movie for this month is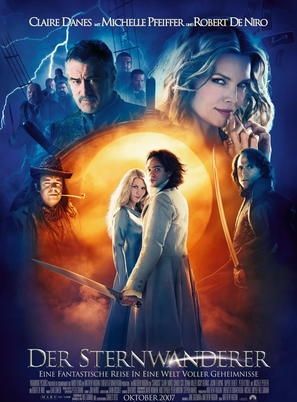 eine bezaubernde Geschichte über einen gefallenen Stern, der in einem magischen Königreich abstürzt - und sich dabei als gar kein gewöhnlicher Meteorit herausstellt, sondern als eine schöne Frau in Gefahr, die von einer unglaublichen Bandbreite von Forschern verfolgt wird, die ihre geheimen Kräfte haben wollen oder brauchen. Von bösen Hexen bis zu machtverrückten Prinzen, von fliegenden Piraten bis zu sich duellierenden Kobolden - jeder, der auf den Stern trifft, hat seine eigene Agenda, aber alle wollen nur eines: ihr Herz.
Die oben genannten Stichwörter dienen als Anregund.
.... denkt daran, es kann alles sein, solange es zur Geschichte oder zu einem Element des Films passt! Lasst euch also ruhig vom Plakat oder dem Film inspirieren!
an enchanting tale of a fallen star who crashes into a magical kingdom -- and turns out to be no ordinary meteorite at all, but a beautiful, imperiled woman chased after by an incredible array of seekers who want or need her secret powers. From wicked witches to power-mad princes, from flying pirates to dueling goblins, each person who encounters the star has his or her own agenda, but they all desire just one thing: her heart.
The above keywords are for inspiration.
.... remember, it can be anything as long as it fits the story or an element of the movie!
So feel free to be inspired by the poster or the movie!
Los geht's mit dieser rockigen Karte von unserer Gast Designerin
Let's start with this rocking card from our guest designer
Bitte besucht ihren Blog und heißt Sie sie herzlich willkommen!
Please visit her blog and give her a warm welcome!
Und nun zu den Anregungen vom Team!
And now for the inspirations from the team!
Wir wünschen Euch viel Spaß!
We wish you a lot of fun!